Rapid Blog: A DisArt Response to the "Second-best city for people with disabilities"
https://www.rapidgrowthmedia.com/features/disartrapidblog.aspx
BY JILL VYN AND CHRISTOPHER SMIT, CO-FOUNDERS AND DIRECTORS OF DISART | THURSDAY, OCTOBER 12, 2017
This week's Rapid Blog comes from Jill Vyn and Christopher Smit, Co-Founders and Directors of DisArt. DisArt is an arts and culture organization that promotes full cultural participation of the disability community through strategic partnerships, carefully curated public events, and consultation. DisArt programming amplifies the voice, visibility, and value of all disabled people. DisArt uses cutting-edge disability arts exhibitions and performances, digital experiences (website, app, podcasts, online curriculums, etc.), symposiums, organizational consulting, and public workshops are the means to engage a variety of audiences in dialogues about the lived experience of disability.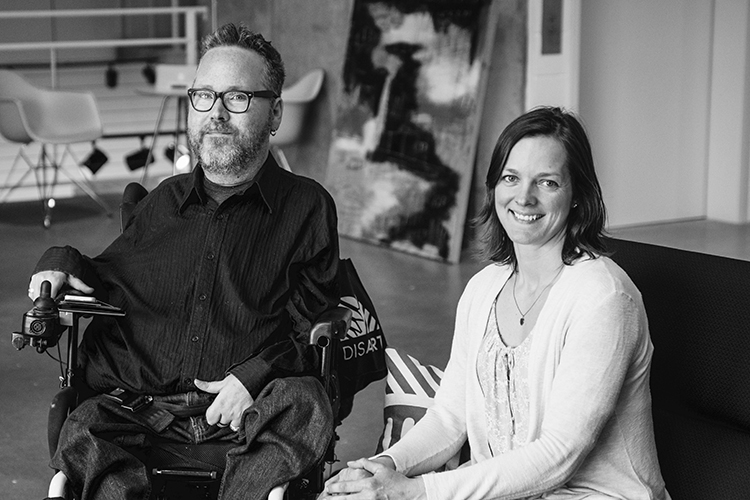 Christopher Smit and Jill Vyn, Co-Founders and Directors of DisArt
Grand Rapids was recently named the "second-best city for people with disabilities" by Wallet Hub. While a positive designation, what does it mean? And what can we, as a city, do to better address accessibility and inclusivity for people with disabilities, ie., The Participation Gap?Earlier this week, Grand Rapids was recognized as the second-best city for people with disabilities by the online financial group Wallet Hub. This is an exciting designation, one that should be celebrated and embraced.
So what does this designation mean? While this ranking is impressive, it's important to take a closer look at what factors were considered and how, upon closer inspection, the study falls short when quantifying quality of life for disabled people.
First though, let's be sure to celebrate.
The study by Wallet Hub constructed its list by focusing on economic, quality of life, and health care statistics taken from a wide variety of sources, including the US Census Bureau, the Department of Housing and Urban Development, as well as from less formal, digital platforms like WalkScore and Yelp. All these numbers added up to show that Grand Rapids is doing a great job of preparing our city to be enjoyed by disabled people, the aging baby boomers, and others who need access assistance.
Furthermore, it is important to celebrate the fact that people around the country are noticing that Grand Rapids is a different sort of place to live, that it is a city which promotes new initiatives designed to ensure a place of flourishing for all of its citizens. And, the fact that this report was published proves that Grand Rapids, and other cities across the country, are talking and thinking about a disability culture that has, for too long, resided in the shadows of society.
But as the party and celebrating mellows out, let's be sure not to let this recognition sweet-talk us into a satisfied slumber. Instead, let's take a close look at what's missing.
Many of the elements of the report, including the development of medical institutions, the accessibility of restaurants, grocery stores, and trails, and the effectiveness of state Medicaid programs, help us take note of the fact that we are compliant with legal standards of accessibility put into place by, among other legislation, the Americans with Disabilities Act (ADA) of 1990.
Ever since the creation of the ADA, society has focused on providing physical access to facilities—in other words, making it possible (however unlikely) for disabled people to enter or make use of a physical space. Consequently, it is no surprise that the study by Wallet Hub did the same.
Unfortunately, this approach misses a broader point: there is a difference between whether someone can do something and whether they would, or will, do something. This is what DisArt calls The Participation Gap. The unfortunate truth is that, while the ADA has made it possible for disabled people to access facilities, it does little or nothing to encourage their participation or engagement.
The study does not consider participation in its report. Disabled people deserve to do more than merely get inside spaces and events, more than just be the recipients of aid, or have enough doctors at their disposal. Disabled people deserve to fully participate in our culture and that full participation can be facilitated by creating spaces, events, and businesses that take into consideration the broad range of needs of its patrons and employees.
Earlier this week, Disability Advocates of Kent County honored John D. and Mary Loeks, owners of Celebration!Cinema, with their "Invest in Ability" award for their outstanding commitments to accessibility and inclusion. In his acceptance speech, Mr. Loeks did a remarkable thing: instead of commenting on his company's accomplishments, he asked for help. He encouraged the disabled and non-disabled audience to share ideas about how Celebration! Cinema's downtown Grand Rapids theater can go beyond the ADA requirements in order to make the theater a place that everybody can and wants to attend.
Like Celebration! Cinema, we have an opportunity to close The Participation Gap in our city: to demonstrate that quality of life measurements go beyond counting the number of ramps and accessible pathways or the number of doctors within close proximity. Grand Rapids has the opportunity to be on the cutting edge of space design and creating human-centered experiences so that the next time Wallet Hub or any other reporting group is doing their research they can't help but notice that there is an active disabled community contributing to the physical, economic, and cultural development of Grand Rapids.